The word ATEX is a contraction of the French words
ATmosphère EXplosible
, or Explosive Atmosphere. An explosive atmosphere contains mixtures of gas vapours, mist or dust which can ignite under certain conditions.
The equipment and protective systems intended for use in explosive atmospheres are numerous and diverse, such as equipment used on offshore platforms, petrochemical factories, mines, mills and other installations where an explosive atmosphere may occur.
intended for Manufacturers, has been replaced by directive 2014/34/UE, to be applied after 20th April 2016.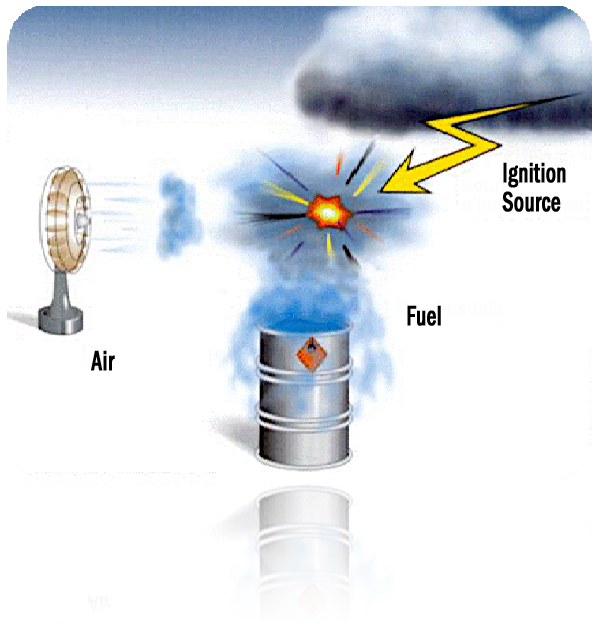 Fire or Explosion?
How to tell the difference?
HOW TO TELL THE DIFFERENCE?
A FIRE is the rapid combustion of a material, emitting light, and heat, with a flame.
An EXPLOSION is a very fast instantaneous combustion which is combined with a sudden increase in pressure.
Meaning of explosive
Two meanings of explosive
Two meanings of explosive
An air mixture present in the atmosphere of the location concerned (workshop, reactor, etc.) that contains ignitable substances in the form of gas, vapour, dust or fibres, upon ignition of which the combustion spreads to the whole of the mixture.
An atmosphere that can potentially become explosive depending on the local operating conditions, as a result of a leak, a rupture in the piping, or temperature changes

Energy Discharge
Electric or electrostatic arc
Mechanically produced spark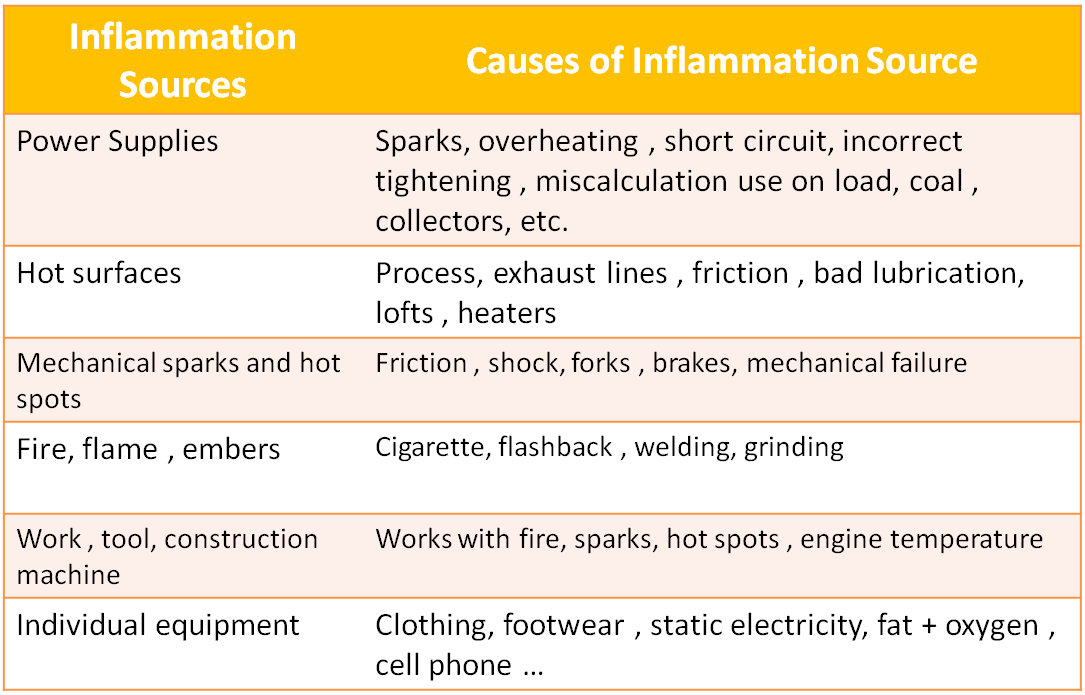 Directives ATEX 1999/92/CE : Users
Concerns the protection of workers who are potentially at risk from explosive atmospheres.

Reminds employers of their responsibility.

Sets out the minimum Health and Safety requirements.

Has been mandatory since 1st July 2003 for any new installations.

Compliance must be ensured before 1st July 2006 for any existing installations built before 1st July 2003.
Example of an Explosive Protection Document (E.P.D.)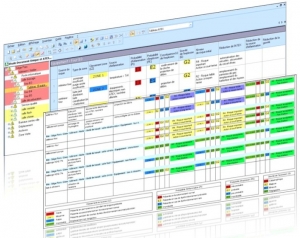 That the explosion risks have been assessed
That measures have been taken to meet the requirements of the EC directive
The location of the ATEX classified zones
The location of areas where the minimum guidelines are to be applied
That the places of work and equipment have been designed and are being used with consideration shown to safety
Directive ATEX 94/9/CE : Manufacturers
Concerns different types of equipment (machines, appliances and safety systems) used in ATEX zones.
Sets a safety level to be respected by manufacturers, known as Categories (1, 2 or 3).
It is obligatory:

Since July 1st, 2003 for all new equipment.
For equipment already in use on this date, the User must carry out a risk assessment (to continue using it (or not), with or without modifications).
Obligations for manufacturers:
CE marking of EX equipment used in ATEX zones
To provide instructions to ensure safety when:

putting the equipment into service (installation, adjustments)
using the equipment (verification before starting, and precautions)
maintaining the equipment (maintenance and reparations)
and if necessary, provide instructions regarding training

Every machine or device must be accompanied by its manual in the language of the country in which that device was purchased
Contact Us
Determine the danger by assessing the risk
Assess the risk and minimize the danger with the CENTREX system, the ATEX safety solution for today's industry!
Contact Us