Referencing in Google
Thanks to an advanced referencing technique, your products are quickly listed on the first page of Google
Your products are listed on the first page of Google
We use a natural referencing technique to guarantee optimum search positioning depending on the type of key words entered.
An ATEX-only platform
Tradatex is the first complete platform to propose a whole range of ATEX-only solutions.
WE ONLY SUPPLY ATEX-COMPLIANT PRODUCTS
Thanks to tradatex.com, your ATEX products are no longer lost in the masses of standard products. A customer looking for ATEX-compliant products will only find ATEX-compliant products.
Your ATEX Specialists
Tradatex.com is a platform developed by CentrExpert. You can benefit from our expertise in the world of ATEX compliance.
PERSONALIZED ASSISTANCE
Take advantage of CentrExpert's expertise in the ATEX sector, and let us advise you, so you can find the right ATEX products as quickly as possible!
Adapted Solutions
Tailor-made solutions adapted to your needs. With us, you will find the solution that best suits you.
MEETING YOUR NEEDS
Depending on if you have 1, 10 or 100 products, your needs will not be the same! We adapt to provide you with the best offer.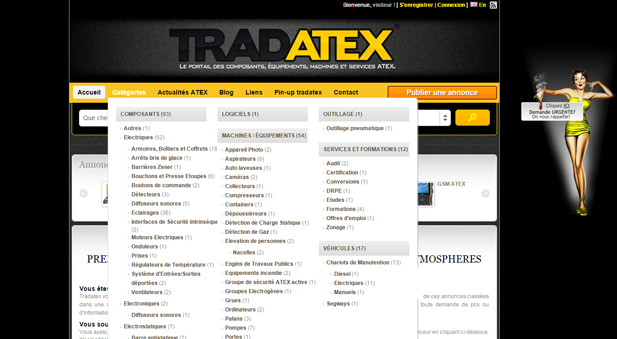 What more could you ask for? We offer you the best!
Tradatex.com is a 
complete platform
with a large range of ATEX equipment, components, tools, machines and even ATEX services
More than 30 categories of products, all ATEX-compliant!

Ranging from basic ATEX components to ATEX-compliant machines, Tradatex is the most extensive ATEX platform you can find.

We include detailed product descriptions giving you all the information you need about our ATEX products.
CONTACT US
Tradatex is your window for your ATEX products
Tradatex.com is a platform developed by CentrExpert. We are here for you.
CONTACT US